Ich hatte Joachim Meyerhoff als grandiosen Mephisto und Katharina Lorenz' vielschichtige Deutung von Gretchen in Erinnerung als ich mich ins Akademietheater zu Othello auf den Weg machte.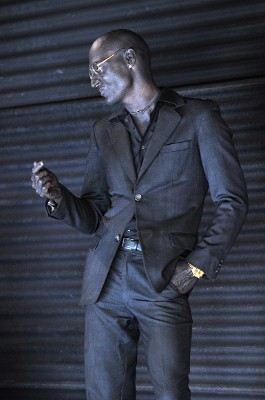 Regisseur Jan Bosse hat aber meine Erwartungen schnell zurück gestutzt. Meyerhoff war mit seinen linkischen Bewegungen und seinem eigenartigen Sprachduktus – um es vorsichtig zu formulieren – zwar ein "interessanter" Othello und konnte ob seiner physischen Präsenz überzeugen. Aber irgendwie kam das Stück den ganzen Abend lang nicht so richtig in Fahrt. Da gab es zwar ein paar kreative Regie-Einfälle wie etwa die Windmaschinen,  die von der Seite einen Eindruck von Sturm in den Zuschauerraum bliesen oder die lustvoll- anarchistische Zerstörung des Wohnzimmerbühnenbildes gleich zu Beginn des Abends. Allerdings konnte Bosse das Stück nicht als große Tragödie im Sinne Shakespeares auflösen. In der ersten Hälfte deutete er es in Richtung Boulevardkomödie. Als unterhaltsames Beziehungs-Stück, das auf Volksbühnen sicherlich als avantgardistisch wahrgenommen würde, eben weil die Darsteller auf den Trümmern eines Wohnzimmers herum turnen mussten.
In der zweiten Hälfte konnte nicht einmal Meyerhoff als ganzkörpergeschwärzter Othello den Furor, den der Autor in sein Stück gelegt hatte, wirklich in Fahrt bringen. Eine der größten Enttäuschungen war Desdemona. Katharina Lorenz war weder göttlich, noch konnte sie ihre Verwirrung ob des aus ihrer Sicht grundlos tobenden Ehemannes glaubhaft zum Ausdruck bringen. So bleibt neben Meyerhoffs eigenwillig kauziger Othello-Darbietung nur noch Edgar Selge als Jago zu erwähnen. Er spielte den intriganten Fähnrich als Fiesling der ständig zwischen Naivität und gefährlicher Boshafitgkeit wechselte. In Shakespeares Stück liegen trotz der relativ banalen Handlung so viele Abgründe (einer der trotz schwarzer Hautfarbe General wird und auch die Tochter eines Senators verführt, Neid und Missgunst, verratene Liebe…), die Inszenierung hat all das großräumig umfahren und wollte nicht mehr und nicht weniger als einen unterhaltsamen Theaterabend bieten. Alleine die Auswahl von "Love will tear us apart" von Joy Division und "Woman is the nigger of the world" von Patti Smith zeigt, dass das in der Form nicht gelingen kann.